How to manage and utilise employees' skills and expertise: Resource Management in Dynamics 365 Project Service Automation (PSA)
Resources are the most important asset of an organisation. Having the ability to find and utilise the correct resources when needed is critical to the success of any business.
Resources' skills and expertise can change rapidly, making it difficult for a business to track and manage. In this blog, we will talk about how Dynamic 365 Project Service Automation (PSA) combined with Power BI can help an organisation manage and utilise resources efficiently.
Project Service Automation's Resource Management + Power BI report
PSA includes a resource manager dashboard that provides a visual overview of resource demand and utilisation throughout the organisation. PSA alone is a powerful tool for resource management and combined with Power BI, its effectiveness is enhanced allowing you to define and execute a data-driven resource management strategy.
ECLEVA as business has clear understanding of the skills sets that are required for each role across the organisation. Each team member has been assessed and scored on skills and competencies required within their role. As an organisation we have complete oversight over the skills that our team members have and any gaps that may exist. We have done this by combining the power of PSA and Power BI and have created this resource management report to view and/or filter resources by their skills to:
Identify the skills that each member brings to the organisation and align team members skills and interest areas with relevant projects.
Identify if we have any skill gaps which is informing our recruitment strategies.
Identify the area or skills where our team members may need additional upskilling or training.
Identify whether we have key person dependencies where only one person is an expert on a key skill.
Power BI Report
After setting up PSA (see steps below), Power BI can be used to view and/or filter team members' skills in just one click.
Select the skill and it will filter the relevant resources with their expertise level.
In this example, you can see all resources skilled in Power IB – Basic and their proficiency. This can then help the organisation decide what resource should be used for a project.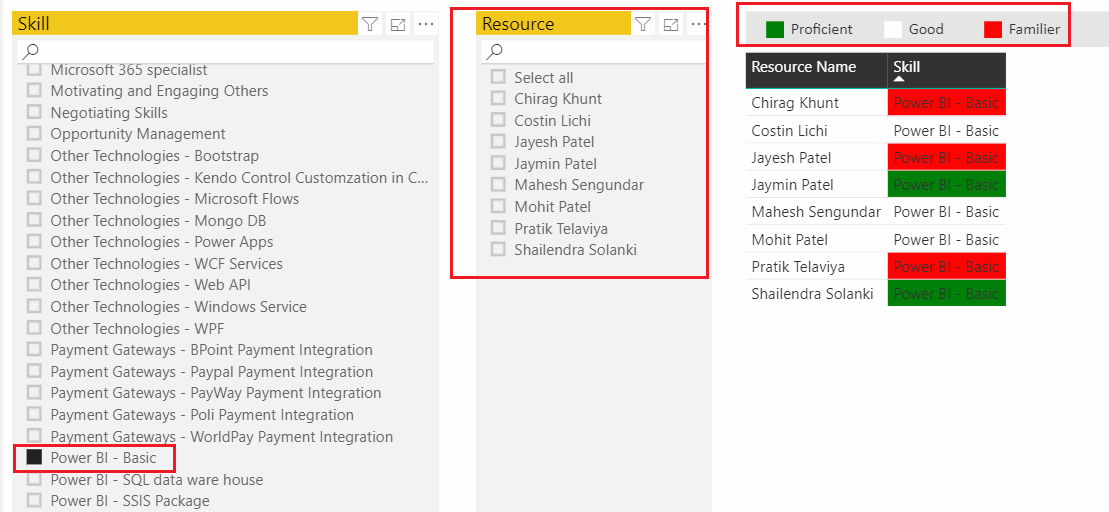 Select the resource and it will display relevant skills with expertise level.
In the example below, Costin Lichi is the resource and all his skills are displayed including his proficiency.

Using this report, the organisation can identify the area /skill where their resources need improvement and can discover opportunities as well as potential risks before they impact the business.
Understanding our data from our current resource management helps us identify risks and opportunities surrounding our resources.
Get Started
Follow the steps below to start creating a similar report for your organisation.
Navigate to Project Service > Resource
Under Settings, click on Skills

Click on New button, enter the name of the skill and set the characteristic type 'Skill'

Note: Enter all the skills of organisation here so you can associate it with resources later.
To associate skills with resources, navigate to Resources and select any specific resource
Click on the second tab – Project Service for the selected resource

Select the appropriate skills in Characteristic which you want to associate with the selected resource
Select the rating value to define the expertise level in the selected skill and Save.
Skills are associated to a bookable resource to determine what skill set an individual has and what level of expertise they have for that skill.
Once we are done with the above steps, we can create the Power BI report as displayed above to view and/or filter the skills-wise resources or resource-wise skills in just one click.
Learn more about how ECLEVA helps companies save costs and operate more efficiently. Contact us at
info@ecleva.com
or call us on
02 9467 9300
.