Another step forward for the Microsoft CRM Application
The overarching view is that the much lauded performance improvements, while there, are still not QUITE there yet, BUT, and I do say BUT… for what it is it's definitely another step in the right direction for Microsoft in a couple of ways and we're very excited about the future!!
There has been a plethora of mobility solutions from Microsoft over the past year, and this one tries to find a niche to start with and tries to do one thing, and do one thing right… email tracking.
When you compare it with the 'old' CRM for Outlook add-in you can clearly see that there are a lot of 'gives for the gets' here. We FINALLY get OWA (Outlook Web Access) integration!, NO configuration on the user side, or heavy database/sign-ins! But we also lose (perhaps not permanently?) Offline mode, appointment tracking and a number of other things (See the screenshot below for more).
It also will work on more platforms and be less 'Microsoft only' focused, which helps those Mac users out there… and those 'other' ones as well.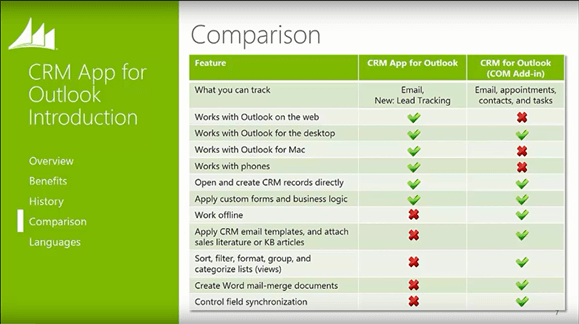 Jumping in to it, the interface is very mobile friendly and offers up a number of things like getting an overview of the latest activity for the contact (appointments, cases, and opportunities). Then you can either do a quick search for something to tag it against (regarding) or you can take the opportunity to create a new record (for example a lead or case) that it relates to.
It allows you to add these in received emails, but also emails that you compose and also to contacts that aren't in your CRM yet… again, that's nice and handy. It feels nice and intuitive to do once you get started.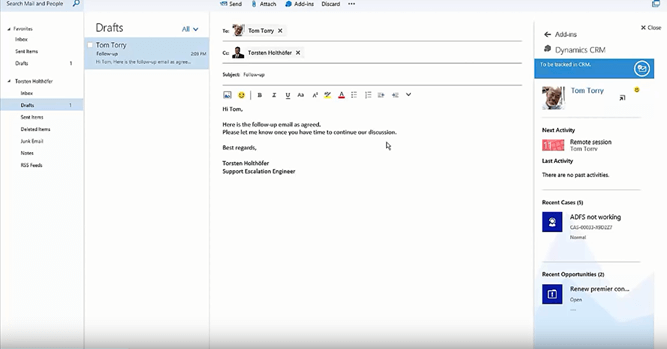 So all in all, for what it sets out to do it pulls it off well … however… the touted performance benefits from the ARA release certainly haven't showed up in our testing here in Australia. Yes, the outlook needs to cold load every time as it doesn't allow for persistent data (pity), but this means that you wait at least a good 4-5 seconds every time… for today's millennials they would already have clocked out by that time and headed to the beach. Seriously though… using the feature does require speed of use, and the vibe isn't that great just yet about that. We hope this can be improved further going forward.
In OWA mode things are better, and maybe this is the best application for it and the expected future use case for most? You don't have to worry about the Outlook data persistence issues here, so the caching works better. Still not perfect but better.
What we are excited about is the future!
It's really like most Microsoft success stories like the Surface 4… not 1 to 3, They need a couple of versions to mature. While this update is not bad by any stretch of the imagination you can see where the room is for improvement and creative thinking. The great thing with Microsoft is that they play catch up better than most given time!
I am particularly excited about seeing what the relationship intelligence and Delve analytics will bring to the table and look forward to seeing this in the next releases (watch this space)!
In summary… We see this update for what it is… Update 1 on the road to update 4 and a tool that's great for emails. As long as you are OK with waiting a couple of seconds every time you use the functionality it will not make you want to go back to the old Outlook add-in in a hurry.
Below are a couple of screens of the high level roadmap, hope you are excited too.
To have a closer look at the app I recommend watching at least the first 20 minutes of this video by Microsoft and Torsten Holthöfer.
https://community.dynamics.com/crm/b/crmvideos/archive/2016/08/12/microsoft-dynamics-crm-online-2016-update-1-new-features-crm-app-for-outlook